Increased arrests, a crackdown on traffic offences and a greater police presence are just some of the benefits resulting from the newly formed Roads Policing Team (RPT) who are driving down crime and improving road safety across Northamptonshire.
In its first two months of activity, the RPT have completed 967 vehicle interactions with drivers and made 88 arrests, with a minimum of 72 per cent visibility, meaning officers have been actively policing on the roads for at least 72 per cent of their time, with the remaining time spent conducting investigations, preparing prosecution files and dealing with prisoners in custody.
Between February 6 and April 6, the team have also conducted 65 vehicle searches and seized 188 vehicles.
Thanks to funding from the Office of the Police Fire and Crime Commissioner, the RPT consists of five teams each containing one sergeant and eight police constables who benefit from a state-of-the-art fleet of vehicles and drone and Automatic Number Plate Recognition capability.
They work a 24-hour shift pattern all year round, providing comprehensive, vigilant cover for the County for the first time in over a decade.
This specialist team have responsibility for policing the road network, taking ownership for road safety and road crime policing.
Roads policing has a critical role to play in reducing casualties, improving driver and rider behaviour as well as targeting and disrupting serious organised crime committed using the County's road networks.
A key part of the work carried out by the RPT will focus on the fatal five – not wearing a seatbelt, using a mobile device, being under the influence of drink or drugs, careless driving or excess speeds.
Chief Constable Nick Adderley, said:
"In 2022 I made a commitment to improve road safety in Northamptonshire and this new team will now transform our roads policing capabilities. Addressing the dangers that exist on the roads, the RPT have already started delivering results.

"Casualties on our roads remains a problem and by addressing the dangers that exist we aim to see a sustainable reduction in the number of people killed or seriously injured in collisions.

"Education, engagement and where necessary, enforcement will be used to make the roads a safer place for all users.

"The work of the RPT is also crucial to the disruption of serious organised crime groups who blatantly use our open road networks to commit their criminal activity. The RPT will work to detect, disrupt and dismantle these groups."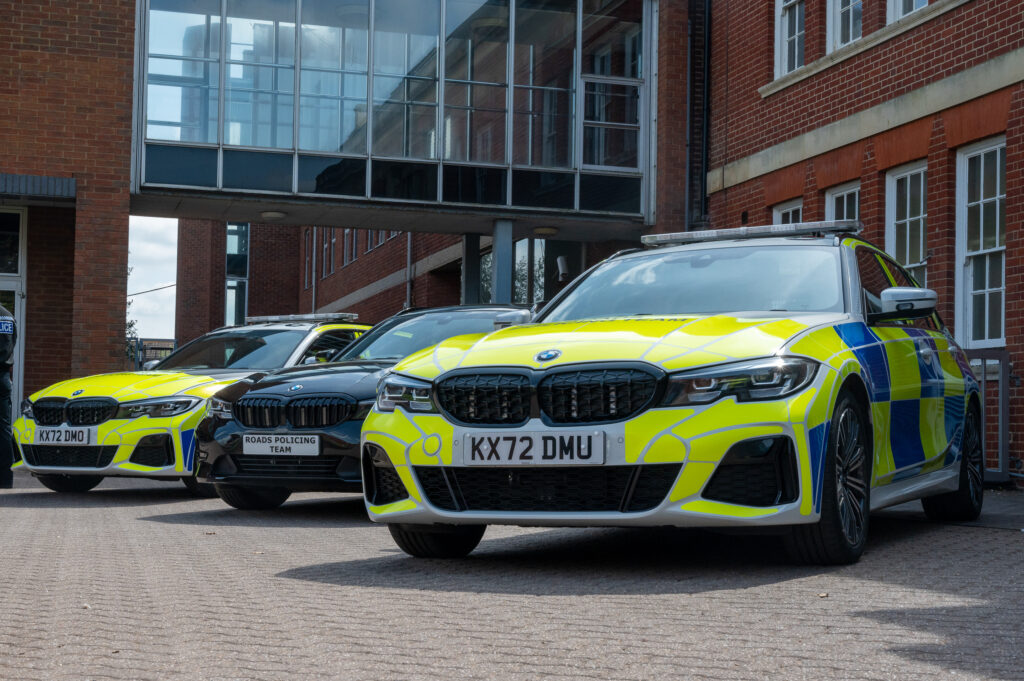 Superintendent Jen Helm, Head of Operations, said:
"The real outcomes will be how the team help to drive down the number of killed or seriously injured. How they increase disruption of those suspects who exploit our road networks to cause wider harm."

Detective Chief Inspector Shelley Nichols, who leads the team, said: "This team will target criminals that use the Northamptonshire road networks to commit offences, disrupting and prosecuting those responsible.

"Officers will have a mix of high spec marked and unmarked cars, and bikes, to conduct intelligence-led patrols and will be tasked using analytical data. They will have access to the latest technology to deliver swift results.

"They are trained to advanced driving standards, tactical pursuits and containment (TPAC), specialist traffic law, including HGVs, prohibition of vehicles and the carriage of dangerous goods.

"The RPT will be the first point of call for road incidents, providing a specialist resource, allowing neighbourhood and response officers to be freed up to deal with other priorities affecting our communities."
Northamptonshire Police, Fire and Crime Commissioner Stephen Mold, said:
"When I ask people what they want from their local police, a visible presence that helps to create safer roads is always one of their top priorities.

"I'm pleased to be able to support the creation of this dedicated new team of specialist police officers that will take responsibility for tackling driving and riding standards on the county's strategic road network. They will also make sure our roads are hostile places for criminals.

"The Road Policing Team will benefit from other investments such as in our state of the art ANPR system and I know that they bring a new focus and expertise to road safety and road crime ."