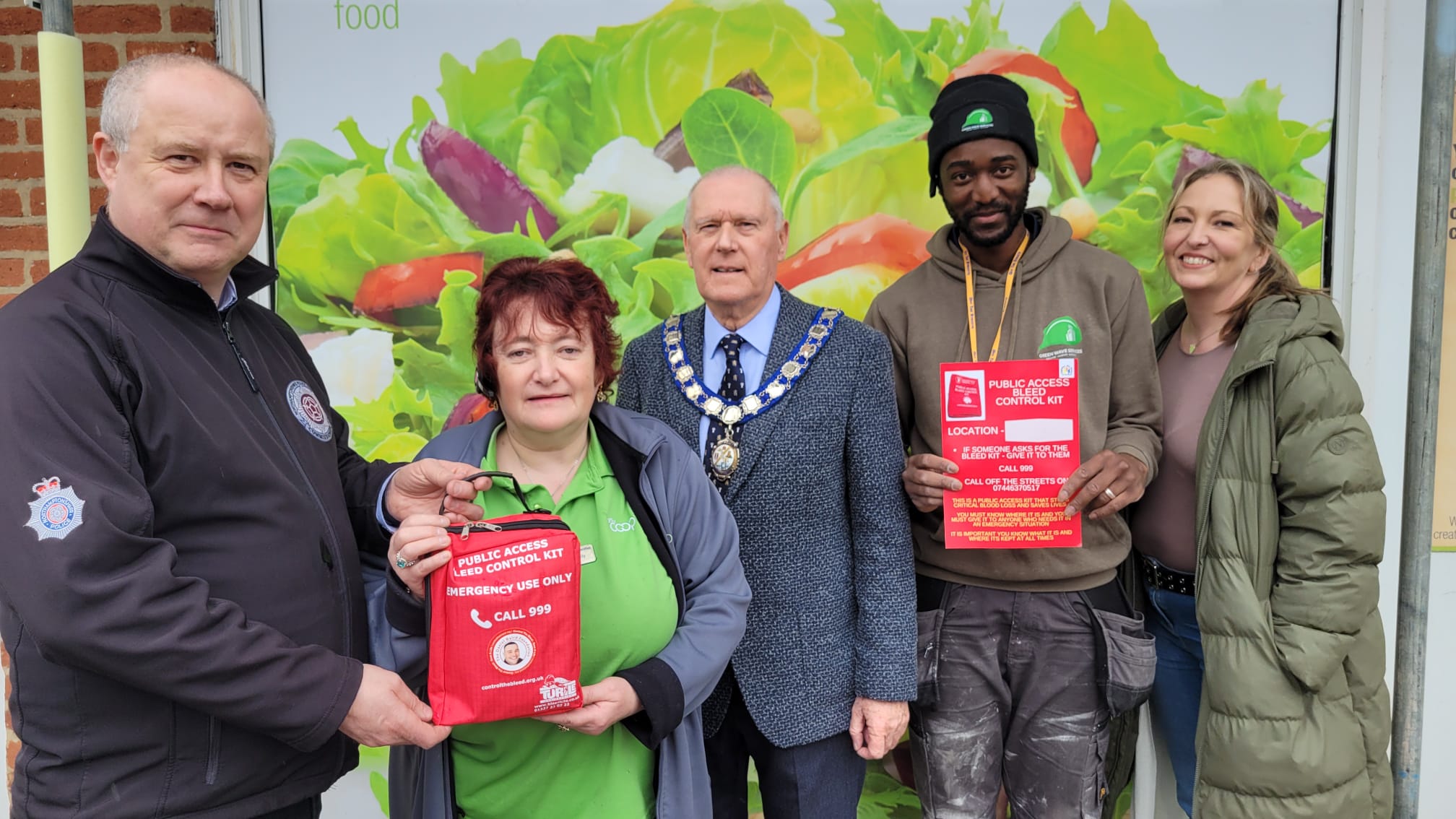 Kits holding life-saving equipment to help control traumatic bleeding are being rolled out for the first time to public places in South Northants and the Daventry area.
The roll out is thanks to a partnership between campaigning group Off the Streets NN and Northamptonshire Police, Fire and Crime Commissioner Stephen Mold, who is funding 14 kits to be located in an area spreading from Brixworth to Brackley.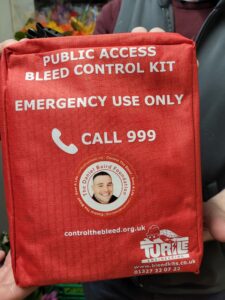 The new bleed control kits are in shops and other venues that will be shown by a window sticker.
The kits hold specialist items that are used to stop catastrophic bleeding and support an injured person until the emergency services arrive.
These kits are the latest in a programme of work by Off the Streets NN that has already seen more than 120 bleed cabinets and kits installed around the county, and hundreds of people trained in life-saving skills.
Last year, Police, Fire and Crime Commissioner Stephen Mold showed his support for the work being done by Off the Streets NN by funding 17 cabinets and kits in Northampton, Corby, Kettering and Wellingborough.
These 14 new kits are the first available for public use that have been rolled out in South Northants and Daventry.
Off the Streets NN set up the scheme to tackle knife and gang-related crime through a partnership approach, involving community bodies ranging from educational establishments to faith-based organisations and voluntary agencies.
Jane Capps of Off the Streets NN, said: "We are truly grateful for the support from all with extra thanks to Mr Mold for funding these kits for South Northants/Daventry. The recent heartbreaking death in Kingsthorpe, Northampton shows that an incident really could happen to anyone at any time and these kits need to be everywhere. We are running free training on how to use the contents of the kit on 4th May, Southbrook Centre, Daventry for anyone in the community over age 13 to attend."
Northamptonshire Police, Fire and Crime Commissioner Stephen Mold said: "The work being done by Off the Streets NN is phenomenal. Rav and Jane have not only raised money, but they have installed the kits and arranged training in skills that would save a life, as well as shining the spotlight on the issue of knife crime and violence.
"I am privileged to be able to support Off the Streets NN and put even more of these life-saving kits out into the community and am immensely grateful for everything that Off the Streets NN are doing to make our county safer," Stephen Mold added.
At the end of 2018, the Police, Fire and Crime Commissioner funded trauma response kits for every police response vehicle in Northamptonshire, alongside training for every frontline police officer in dealing with major traumatic injuries. The kits were also rolled out to every fire appliance in 2022.
The new bleed kits are in:
Weedon – The Crossroads Hotel
Crick – The Ibis Hotel
Long Buckby, Brixworth, Moulton, Towcester, Deanshanger, Middleton Cheney – Co-op Stores
Brackley – Waitrose
Silverstone – Crofts Store
Daventry – location TBC