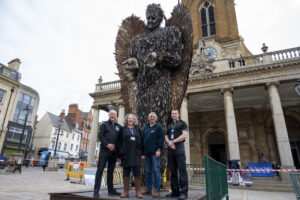 The Knife Angel, a national monument against violence and aggression made from 100,000 knives has been put up in the centre of Northampton today (Friday 29 April) thanks to funding from Northamptonshire's Police, Fire and Crime Commissioner and in partnership with local charity C2C Social Action, West Northamptonshire Council and North Northamptonshire Council.
The Commissioner, along with representatives C2C Social Action and the Councils were at All Saints Church, Northampton this morning to welcome the iconic statue and launch a month of activities across the county aimed at raising awareness and educating primarily young people on the impact of knife and violent crime.
Sited outside All Saints Church, the 27-foot statue, will tower over the plaza as a sobering reminder of the horrific impact knife crime has on individuals, families and communities. It will be on display in Northampton until 14 May, when it will be transported to Corby with a brief stop in Wellingborough.
Police, Fire and Crime Commissioner Stephen Mold, said: "We know that knife crime causes fear and anxiety, and my hope is that the Knife Angel will spark conversations, increase engagement and raise awareness of the consequences that knife and violent crime have on communities and in particular to young people.
"I have pledged to use early intervention and prevention initiatives to tackle the root causes of knife crime in Northamptonshire."
Northamptonshire Police lead on knife crime, Superintendent Adam Ward, said: "Knife crime remains a priority for the Force, and it is important that we continue to build on the foundations of our recent campaign, which has helped to prevent and tackle this type of offending.
"Having the Knife Angel visit the county is a real honour, and its shear presence will provide the ideal opportunity for us, along with our partners, to continue to engage and educate our young people and the wider communities on the consequences and dangers of carrying a knife."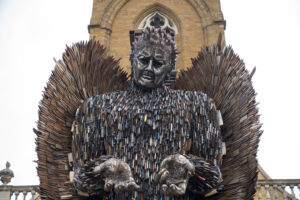 Chief Executive Officer at C2C Social Action, Angie Kennedy, said: "I see the Knife Angel as a symbol of unity and partnership across the county. When we were originally planning the visit two years ago, the Commissioner really wanted the visit to engage the whole of the county, so the original plan was adapted, and the dual location visit was hatched.
"The success of the visit is hinged on joined up thinking, working in partnership and working across the unitary councils to highlight the awesome work that is already being done. We can't do this as individuals. We must talk to each other and work together to improve the county we live in."
Cllr Fiona Baker, West Northamptonshire Council's Cabinet Member for children, families and education, said: "The presence of the Knife Angel in West Northants will reinforce the work that is already under way to tackle violence, aggression and knife crime in our communities, and we welcome the important conversations that it will bring – particularly amongst children and young people.
"We are thrilled to be hosting this monumental sculpture and encourage as many people as possible to take advantage of the many workshops and events that will be happening in West Northants over the next two weeks and beyond."
Executive Member for Housing and Community at North Northants Council, Cllr Andy Mercer, said: "Unfortunately, knife crime remains a serious issue in communities across the country, as well as closer to home. I hope that by having the Knife Angel visit North Northamptonshire we can further highlight the devastating impact knife crime can have."
The Knife Angel will remain in Northamptonshire until 30 May when it will make its way to the next destination on its anti-violence journey around the UK.
Notes:
The Knife Angel is visiting Northamptonshire as part of a nationwide tour aimed at raising awareness of the devastating impact knife crime can have and as a memorial to those people whose lives have been affected by knife crime. The Knife Angel is made from 100,000 blunted blades handed in to more than 200 knife amnesty bins and police forces across the country, including Northamptonshire Police. The artwork, created by Alfie Bradley at the British Ironworks Centre at Oswestry in Shropshire, features messages from families of victims of knife crime engraved on the sculpture's wings.
The Knife Angel will arrive in Northampton on 29 April and will remain at All Saints Church until 14 May, when it will be relocated to Corby until 30 May, following a brief stop in Wellingborough.
The visit has been made possible by Crime2Christ (C2C Social Action), a Christian charity which offers practical and pastoral support to offenders, helping them turn away from crime and has been funded by the Office of the Police, Fire and Crime Commissioner. West Northamptonshire Council and North Northamptonshire Council are supporting the visit with organised activities in Northampton, Wellingborough and Corby throughout the month.
For more information about the partners:
Office of Northamptonshire Police, Fire and Crime Commissioner (northantspfcc.org.uk)
C2C Social Action | Northampton | Milton Keynes | Kettering
West Northamptonshire Council (westnorthants.gov.uk)