Thirty Streetpods, new secure stands where cyclists can park their bikes safely, are being installed next week at 19 locations on Wellingborough Road and Kettering Road in Northampton, thanks to an investment from Northamptonshire Police, Fire and Crime Commissioner, Stephen Mold.
Over the last two years, Northampton has seen a 16% increase in bike theft, the highest of all Northamptonshire's towns, while the rest of the county has seen an 8% decrease in bike theft.  Positioned outside shops and community facilities on Wellingborough Road and Kettering Road, the Streetpods will offer residents and cyclists coming into the area protection and security for their bike.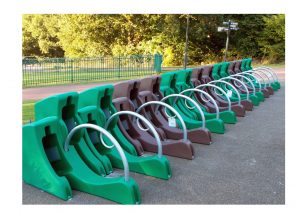 Streetpods protect the front wheel within a casing, whilst the frame and rear wheel are secured using just a single lock. The Streetpods hold a Sold Secure Silver certification, and are a police approved Secured by Design licensed product, providing additional reassurance to cyclists.
This investment has been made possible by the Police, Fire and Crime Commissioner's successful bid for a grant of £1.45m from the Home Office as part of the Safer Streets project. The Streetpods are just one of a number of measures being introduced to reduce acquisitive crime, such as bike theft, in Northampton.
Seven surface car parks in the town are being improved as part of the same project so that they meet the Park Mark standard and promote crime prevention. The standard, which is managed by the British Parking Association, is designed to reduce both crime and fear of crime in parking facilities and is awarded following a rigorous assessment conducted by Police Assessors. Car park maintenance and management, lighting, surveillance and access control are some of the factors considered as part of the Park Mark assessment.
Northamptonshire Police, Fire and Crime Commissioner, Stephen Mold, said: "We are investing in a number of different measures to make the streets of Northampton safer for all. The Streetpods provide a practical solution for the many cyclists of Northampton who live in the area or using local facilities and are concerned about security when leaving their bikes.
"The Park Mark accreditation initiative gives residents and visitors the reassurance that, with our support, owners and operators of the parking facilities have considered and taken action to ensure that their car park is a safe and secure environment for both vehicles and people."
Melbourne Walk, Bouverie Walk, Vernon Walk, Elizabeth Walk and Woodstock are owned by Northampton Partnership Homes and provide parking for their residents, whilst Market Street and Melbourne Street car parks belong to Northampton Borough Council and are used primarily by shoppers and visitors to Northampton.
To find out where other Park Mark car parks are located, visit: