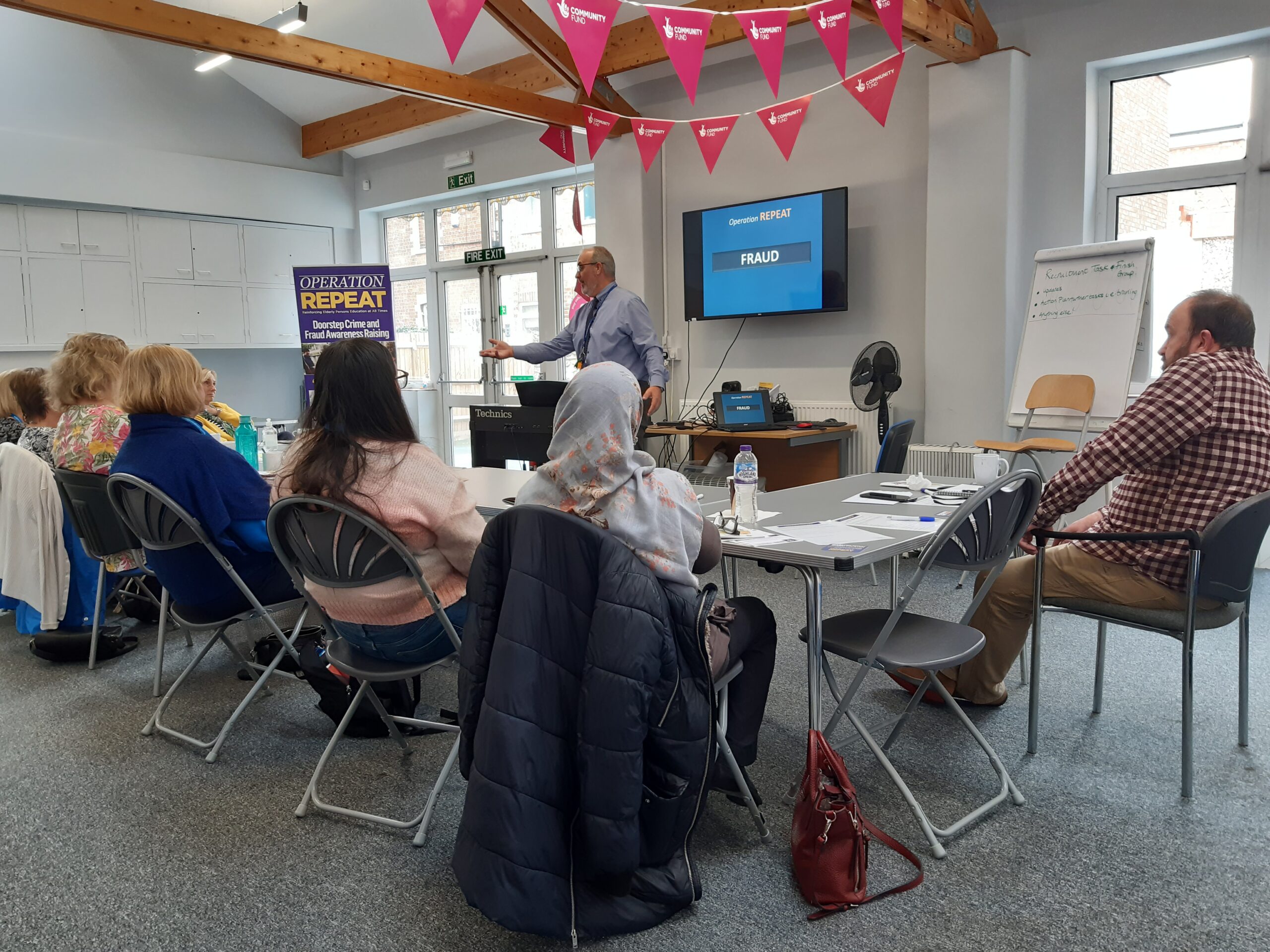 Training delivered to health and social care professionals to help them recognise and tackle doorstep crime is being extended for a further 12 months and will reach other community groups and charities thanks to funding from the Northamptonshire Police, Fire and Crime Commissioner.
After a successful first year in Northamptonshire, Operation REPEAT, which stands for Reinforcing Elderly Persons Education at all Times, has already been delivered to around 200 trusted health and social care workers, increasing their knowledge on types and signs of scams to help prevent people in their care from becoming victims of doorstep crime.
Operation REPEAT was designed to reinforce important information to protect vulnerable people against scams using the health and social care sector staff who visit regularly. Doorstep crime can affect anyone, but elderly and vulnerable people are most at risk of being targeted by rogue traders, unscrupulous salespeople, distraction burglars and bogus callers and Op REPEAT provides an effective means to reach these people.
Northamptonshire Carers, who employ over 120 staff, and support over 22,000 individuals across the county, have put many of their staff through the Operation REPEAT training and plan to incorporate it into their staff induction program in 2023.
Chief Operating Officer at Northamptonshire Carers, Gwyn Roberts, said: "Working in partnership with the Office of the Police, Fire and Crime Commissioner on Operation REPEAT is a hugely positive step. Doorstep crime can leave a huge impact, both financially and emotionally on the victims, so to have an awareness of how it can be avoided is very much needed."
Offences have been reported and criminal activity prevented as a result of Operation REPEAT as attendees are more aware of scams, fraud and doorstep crime and can quickly and confidently intervene and notify the appropriate policing teams. One Northamptonshire Carers Support Worker commented that without attending the training they may not have recognised certain actions as the crimes they were and were grateful for the knowledge the course had provided.
Reg Burrell, Director of Operation REPEAT, said: "I am delighted that the first year of Operation REPEAT in Northamptonshire has been received so positively and that those people we have trained have been able to spread their knowledge and ultimately prevent some of the county's vulnerable people from becoming victims of fraud.
"Prevention through education is the key to combating this type of crime and the funding we have received from the Police, Fire and Crime Commissioner is enabling us to extend the scheme not only for a further year but also to other community groups and charities in the county."
Northamptonshire Police, Fire and Crime Commissioner, Stephen Mold, said: "I am fully supportive of Operation REPEAT in delivering this fraud prevention programme to a targeted audience. We see the devastating effects that doorstep crime can have on its victims, not only through financial loss, but emotional trauma and a long-lasting sense of fear.
"I am investing in partnerships and resources that disrupt and prevent crime and exploitation and help to keep the most vulnerable people in our county safe. I hope that through this programme we can reach out to even more people particularly at a time when people simply cannot afford to be ripped off."
For more information about Operation REPEAT, please visit their website.
Find out more about Northamptonshire Carers.