A  countywide scheme which works to help people with disabilities in Northamptonshire feel safe and secure when out and about is set to be expanded with the help of additional funding from the Office of the Police and Crime Commissioner.
The Keep Safe Card project, which has been running since 2011, was today relaunched during a special event attended by PCC Stephen Mold and Northamptonshire Police Deputy Chief Constable Rachel Swann, alongside representatives from a host of disability charities and other organisations.
The event was held at Moulton Community Centre to celebrate the expansion of the scheme, which will now see many new member organisations signing up as key partners to help the project grow even further. These organisations include Northamptonshire Fire and Rescue Service, the Northamptonshire Healthcare Foundation Trust, the mental health charity Mind, and Autism Concern.
The scheme is jointly run by Northamptonshire Police and the Northamptonshire Learning Disability Partnership Board and its expansion is being supported by the OPCC.
There are currently 1,400 card users signed up across the county but the hope is that this number will continue to grow as more organisations come on board to spread the word about the scheme.
The project encourages people with a disability, people who experience mental illness, or people who may be vulnerable, to sign up as Keep Safe Card holders.
The card can then be shown whenever the holder feels lost, bullied, worried about their safety or in need of assistance in any way. Help may be found in shops, libraries, leisure centres, GP surgeries or anywhere a person feels they can ask for support. The three emergency services, Police, Fire and Ambulance, will also be able to access the information to be able to support the person in the best possible way.
The card holds some basic details about the person's disability as well as contact details for people close to them, such as carers, who can be telephoned in an emergency. The card also gives an idea of how best to help and communicate with the card holder.
Stephen Mold, Police and Crime Commissioner for Northamptonshire Police, said: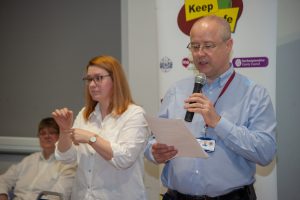 "Keep Safe is a wonderfully effective idea where partners have come together to protect vulnerable people living and working in this county. We have been consulting people with mental illness on how our services work for them and they asked for something that would help us understand their needs if they are in crisis or need help. This simple card fits the bill.
"Safeguarding vulnerable people is one of the cornerstones of the Police and Crime Plan and I am confident that the Keep Safe Scheme will help people receive better care, help and support while helping public services work together."
One benefit is that it gives many disabled people in Northamptonshire the ability to feel safer and secure when they are out, knowing there will be support available if they feel frightened or anxious.
David Smith, Northamptonshire Police's Disability Access Service Advisor, added:
"As a person who is registered blind, I can identify with the benefits of a Keep Safe Card.  It has been a privilege to manage the scheme on behalf of Northamptonshire Police for the last four years. 
"The scheme was originally aimed at adults who have learning disabilities. However, after receiving many requests from families and carers of people with other disabilities such as Alzheimer's, Dementia, Parkinson's, sensory impairments and mental health conditions, I am really excited that we are going to be expanding the scheme to invite all vulnerable people with disabilities, who live within Northamptonshire, to sign up.  We currently have over 1,400 card holders and expect that to rise to around 5,000 within the next 18 months.
"From a personal perspective, I know how much anxiety can be caused by wanting to be independent and go out on your own, especially to unknown places.  The Keep Safe Card helps with this as you know that help will always be on hand if you need it."
Cllr Elizabeth Bowen, Northamptonshire County Council cabinet member for adult social care, commented:
"This is a great scheme which allows vulnerable people to feel safer in the county and that has been achieved through partners working together.
"Improving the health and wellbeing of county people is a key priority for the county council and the expansion of the Keep Safe Card is a definite step towards that goal."
To sign up for a Keep Safe Card or for more information ring 01604 888963, email das@northants.pnn.police.uk or visit www.keepsafenorthants.org and download an application form.