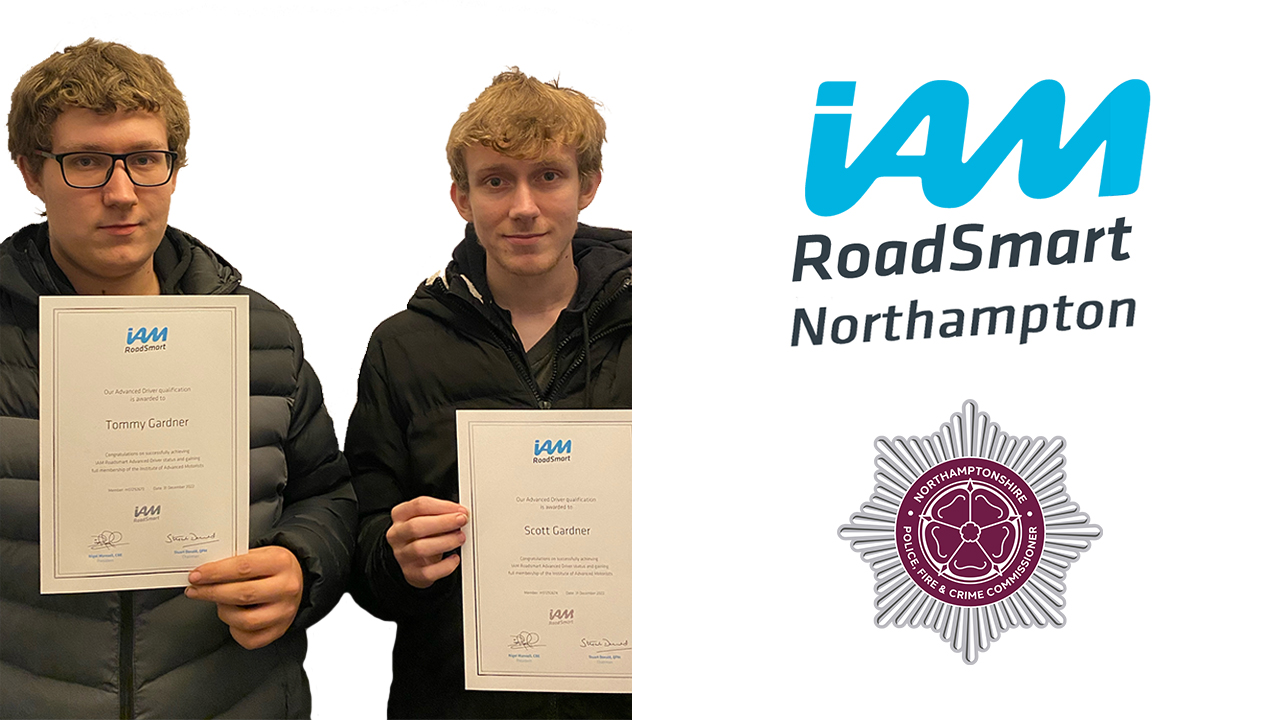 NEWS RELEASE ON BEHALF OF NORTHAMPTON ADVANCED MOTORISTS
Two brothers have passed their Advanced Driving Tests on the same day – thanks to scheme which is funded by a grant from the Police, Fire and Crime Commissioner.
Young drivers Tommy Gardner (19) and Scott Gardner (18) from Wellingborough, have been undergoing drives with Northampton Advanced Motorists observer and Chair, Steve Groves.
As well as drives with Steve, the two have taken advantage of the monthly checkdrive sessions and the classroom session.
Both were deemed to be at advanced level and their Advanced Tests were requested.  Not only did the two tests come through for the same day, but they were also back to back with the same examiner.
Scott went first and passed – the pressure was then on for Tommy! Tommy took it in his stride and also passed!
The brothers commented: "We are brothers we do everything together, including improving our driving skills!"
Steve Groves, their mentor said: "It was a pleasure to be Tommy and Scott's observer and be able to get them ready for their Advanced driving test. I had a lot of fun using sibling rivalry to encourage them to advance standard.
"It's great to see two young drivers taking these steps to learn new skills to make them safer drivers and improve road safety for themselves and other road users."
A massive congratulations to Scott and Tommy on this excellent achievement, a first for Northampton Advanced Motorists. Both Scott and Tommy are young drivers (under 26) so have now received a £100 refund each on their IAM RoadSmart Driving Course, as part of the Young Drivers Scheme.
The Young Driver Scheme is funded by a grant from Northamptonshire Police, Fire and Crime Commissioner Stephen Mold, which provides drivers under 26 years old passing the advanced test with Northampton Advanced Motorists a refund of £100 of the £175 Advanced Driving Course fee.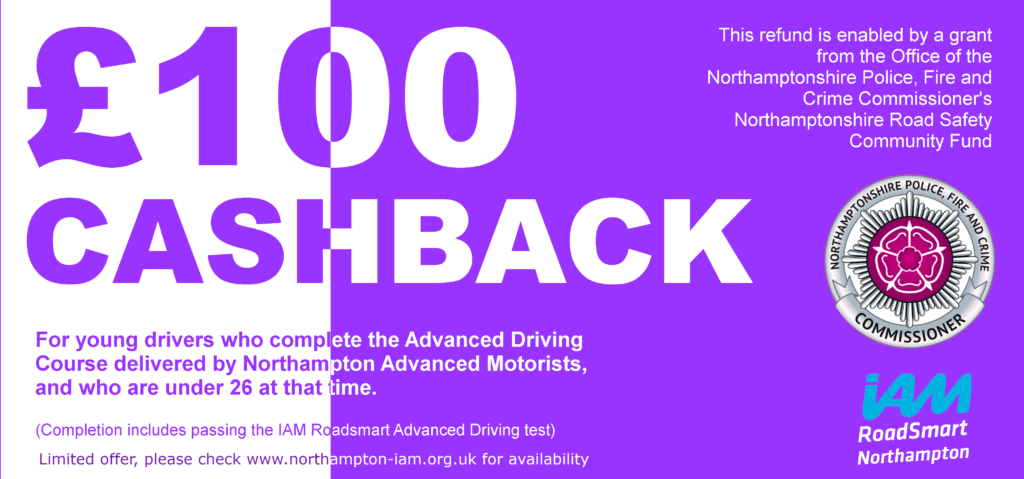 Stephen Mold said: "Far too many people lose their lives, or are injured, on the roads of this county every year and I will do everything I can to support activities that reduce that terrible toll. That's why I am happy to support this brilliant scheme from Northampton Advanced Motorists, which aims to teach young people the habits that should take them safely through a lifetime of driving.  I'm so proud of Scott and Tommy, for starting off on the right path – great result for them both."
If you are interested in the young driver scheme, please book a free taster drive https://northampton-iam.org.uk/book-free-taster/ or contact nam_secretary@yahoo.co.uk.