The Northamptonshire Police and Crime Commissioner Stephen Mold is investing £1 million to improve healthcare provision for people in Northamptonshire Police custody suites. The investment will provide better support for detained people and reduce the amount of time officers spend away from their policing duties while taking detainees for medical treatment elsewhere.
Under a new, five-year contract between Northamptonshire Police, Northamptonshire Healthcare Foundation Trust and the Northamptonshire Police and Crime Commissioner, full-time healthcare will be available to detainees in the custody facilities in Kettering and Northampton.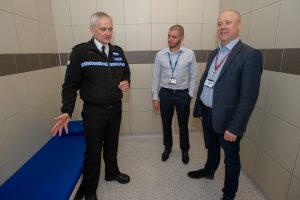 The service will be available all day, every day, meaning that detained people will have access to a full range of treatment and assessment on-site and that police officers are far less likely to escort a detainee off-site.
The new contract, which begins on 1 June 2018, will see NHFT provide both physical and mental healthcare around the clock to meet the needs of people in custody. The healthcare will be supported by nursing staff and physicians who will be based within the custody facilities to allow them to provide immediate response to any treatment which may be required, reducing the need for detainees to be escorted to hospital by a police offer.
The custody healthcare service is part of a wider collaboration between these partner organisations and focuses on providing quality healthcare and support to detainees or frequent users of policing services. This includes healthcare services provided by NHFT such as police street triage and the criminal justice liaison and diversion team.
Northamptonshire Police and Crime Commissioner Stephen Mold said that the new contract was a significant investment in policing:
"The welfare of people in custody is of paramount importance and is a priority for Northamptonshire Police. This new service will provide the best and most appropriate care for a detainee and help the Force meet its responsibility to people in custody. 
"But significantly, making this investment will also free up frontline officers to focus on policing in the community, rather than spending their time escorting detainees for assessment and treatment."
Chief Superintendent Mick Stamper, Head of Operational Policing Command for Northamptonshire Police , said:
"We welcome and support this investment. A lot of frontline officers' time is spent transporting detained persons to hospitals and remaining while they are treated and often detectives are delayed in their investigations whilst they wait for medical support for their suspect. This investment will reduce considerably the abstraction of front line officers and the time delays in police investigations."