Nick Adderley has been confirmed as the new Chief Constable of Northamptonshire Police.
Stephen Mold, Northamptonshire Police and Crime Commissioner, made the announcement today after notification from the Northamptonshire Police and Crime Panel that they have supported the appointment.
The Police and Crime Panel confirmation comes at the end of a challenging selection process that culminated in two-days of interviews where the candidates were questioned by a group of police officers and staff and gave a presentation to representatives of local partner organisations.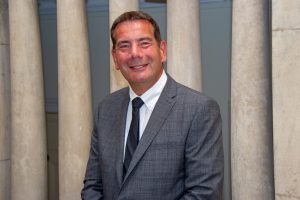 New Chief Constable of Northamptonshire Police, Nick Adderley
Candidates then faced two formal interviews. The first tested their technical skills and competence and was conducted by a panel with professional policing experience: Paul Fell, Director of Delivery for the Northamptonshire Office of the Police and Crime Commissioner; Bill Skelly, Chief Constable of Lincolnshire Police and Alison Hernandez, Police and Crime Commissioner for Devon and Cornwall.
The second interview panel was led by Police and Crime Commissioner Stephen Mold, with Darren Dovey, Chief Fire Officer of Northamptonshire Fire and Rescue Service and Yvonne Rees, Chief Executive of South Northamptonshire District Council.
Nick will join the Force on the retirement of Simon Edens on Monday August 6th.
Stephen Mold said:
"I am delighted to confirm Nick Adderley as the next Chief Constable of Northamptonshire Police and I am very much looking forward to him joining us.  This appointment follows a very tough selection process and I am pleased that the Police and Crime Panel has agreed with my choice and were as impressed by Nick's leadership qualities as I was.
"During the process, Nick visited Northamptonshire on several occasions, spending time with me and with police officers and staff across the Force. This tells me that we have made the right appointment and that Nick is the person to lead Northamptonshire Police in the coming years.
"Nick is a highly experienced police officer with a passion for policing and I know he has the vision that will build on all the hard work that has already been taking place under Chief Constable Simon Edens and bring new ideas that will lead to genuine and lasting improvements to Northamptonshire Police. I am really looking forward to working with Nick to deliver the Police and Crime Plan and tackle the challenges that face us as a county."
Steve Pace, Chair of the Northamptonshire Police Federation, said
"Northamptonshire Police Federation offer our sincere congratulations to  Nick Adderley following confirmation of his appointment to Chief Constable by the Police and Crime Panel.  We look forward to working with the Chief Constable and the Police and Crime Commissioner Stephen Mold in providing a service that we are proud of to the residents of Northamptonshire.
"Mr Adderley's commitment to Northamptonshire is clear and I look forward to an open dialogue to voice concerns on the issues that are affecting our members in order to ensure that there is proper investment in the resources and equipment required to effectively keep our communities safe."
"Nick congratulations and welcome to the County."
Councillor Gill Mercer, Chair of the Police and Crime Panel, said:
"We were very impressed by Nick Adderley's experience and commitment to Northamptonshire Police. We are confident that the Police and Crime Commissioner carried out a thorough and exhaustive recruitment process and we wish Nick every success in his new role."
Nick Adderley said:
"I am absolutely delighted to have been confirmed as the next Chief Constable for Northamptonshire Police and I would like to thank the Police and Crime Panel for their endorsement and support for my appointment.
"Already I have been incredibly impressed by the determination and desire by the men and women of this force to make Northamptonshire safer and my primary role will be to lead and assist them to do this even better.
"It is a privilege to lead such a proud and committed force and I look forward to the challenges ahead."
Nick Adderley biography
Nick joined the police service in 1992 following a successful career in the Royal Navy.
As a serving officer in Cheshire he performed most ranks and roles up to and including that of Superintendent.
After a two-year spell working at the Home Office, Nick transferred to Greater Manchester Police and was soon promoted to the rank of Chief Superintendent, taking command of the Tameside division followed by the City of Manchester division.
In 2015, he successfully completed the Strategic Command Course and was promoted to Assistant Chief Constable in Staffordshire.
Nick is the National Police Chief's Council lead for disclosure and safeguarding as well as police motorcycling and the criminal use of motorcycles.
He is a qualified counter-terrorism commander, strategic firearms commander and CBRN commander.