A pilot scheme has been set up by Northamptonshire Police, Fire and Crime Commissioner Stephen Mold to support farmers and landowners to remove fly-tipping from their land free of charge and to put in place measures to prevent it from happening again.
The pilot scheme is being run with East Northamptonshire and Daventry District Council.
And the leaseholder of fields by the A605 near Lilford has been the first to be helped by the scheme, having around three tonnes of green waste and vehicle parts (pictured) cleared from their land and physical prevention measures to keep fly tippers out are being installed.
Local councils do not remove fly-tipped waste on private land, that is the responsibility of the landowner, however councils do investigate reports of fly tipping.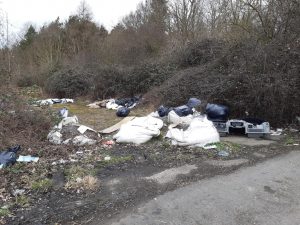 Under the scheme, farmers and private landowners in East Northamptonshire and Daventry District can report fly-tipping on their land and the authority will arrange for the fly tip to be cleared – with the cost being met by the Police, Fire and Crime Commissioner.
The council will then suggest measures that would help the landowner to prevent further tipping on their land, for which the Commissioner's Office will supply a grant.
The Commissioner's office also aims to buy mobile, quickly deployable CCTV cameras, which would be used by the local authorities in hot spot areas with the aim of securing the evidence to catch and prosecute the fly tippers.
Northamptonshire Police, Fire and Crime Commissioner Stephen Mold said that fly-tipping on private land is an issue that is frequently raised by people living in rural communities.
"Fly tipping is now part of organised criminality and it is a blight on rural areas.  I have spoken to some farmers who are at the end of their tether with the costs of repeated fly tipping. It harms their land; it harms the local environment and it is quite simply a crime.
"I want to create a safe environment in Northamptonshire, and I am pleased that we have been able to work with the local authorities in Daventry and East Northamptonshire to quickly put this pilot scheme in place. We'll be evaluating its effect on fly tipping in those areas, and the ability to track down the offenders."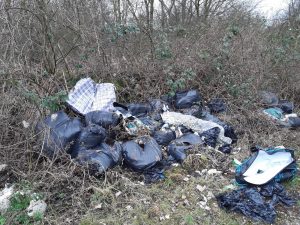 The leaseholder of the land at Lilford, said that incidents on his land were always frequent and had increased over the last 12 months.  He added:  "An excellent scheme set by the Commissioner. This kind of fly tipping is a blight on our beautiful county of Northamptonshire".
Cllr Steven North, Leader of East Northamptonshire Council said: "East Northamptonshire Council takes fly-tipping seriously and this project, along with a successful one last Autumn, is a prime example of the Waste team working hard with partners to prevent future fly tipping.
"We are extremely grateful to all our partners for their help on this project and are pleased that this simple solution has prevented waste being illegally dumped along this particular part of the district."
The pilot scheme will run for six months.