A secure collaborative platform to help police officers tap into the expertise of the county's highly-skilled cyber volunteers has been developed by members of the Cyber Security Forum run by Northamptonshire Police and Crime Commissioner Stephen Mold.
The platform will match the skills and capacity of the county's cyber security volunteers with the needs of specific police investigations and it is now being tested with Northamptonshire Police.  If it proves to be successful, the platform has the potential to be rolled out across the East Midlands region and offered to police forces across the country to manage their own cyber volunteers.
The Northamptonshire Police and Crime Commissioner's Cyber Security Forum is a network of IT directors, security managers and cyber specialists who meet every month to discuss current and emerging threats and trends in cyber crime. The Forum is headed by Simon Clifford, Director of Technology and Digital Transformation for Northamptonshire Police and Crime Commissioner Stephen Mold.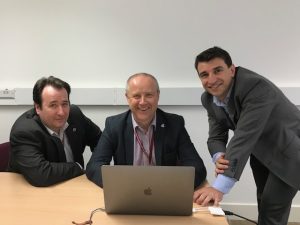 Nationally, the threat from cybercrime is growing. A 2017 report by the Reform organisation,  called Bobbies on the Net, said that a range of changes were needed to make police forces fit to fight digital crime and called for 12,000 expert IT volunteers to combat the threat posed by cyber crime.
Northamptonshire's 50 volunteers are highly skilled professionals with considerable expertise, particularly focussed on business cyber security. They give their time to allow police to tap into their expertise that would otherwise need to be purchased from specialist agencies, and they can support police in the acquisition of evidence that could be useful in criminal investigations.
Simon Clifford, from the Office of the Police and Crime Commissioner, said:
"This platform is born out of a need for us to work together securely based on areas of expertise. Our members have made clear that they want to help policing protect and respond more effectively. We built that need into a set of requirements that led to this platform and I am excited to see how it develops from here. The platform is built to scale, and on completion of the Pilot phase will be available for other forces to use."
The new platform will give Northamptonshire Police quick access the technical skills they need. A request for support with a particular issue can be securely posted on the platform. A registered Northamptonshire cyber volunteer with the right expertise and the time to help can then offer their support, carry out the necessary work and securely pass the information back to the police – all on the secure platform.
The platform also allows the cyber volunteers to keep in touch with each other and share ideas and information. Forum members are already considering other ways in which it could be used to support police investigations.
Stephen Mold, Northamptonshire Police and Crime Commissioner, said the platform would allow police to make the best use of the considerable skills and valuable time of its cyber volunteers.
"I am very impressed with our highly-skilled and incredibly committed cyber volunteers. These people are specialists at the top of their game who have a high degree of knowledge and expertise. They understand and deal with complex cyber threats in their business life and their time is valuable, so we need to use it well.
"This tool will help them match their skills to a particular problem when they have the time to help Northamptonshire Police. I am very grateful that they are prepared to volunteer to help protect the public from the threat of internet related crime and bring their considerable talents to support police officers in this challenging area."
Pervade Software, a founder member of the Cyber Security Forum and whose technical offices are based locally in Daventry, Northamptonshire created the volunteer portal and will securely host it in The Bunker, the same UK-based secure data centre as the main Cyber Essentials accreditation portal which Pervade also created and host.
"We're extremely pleased to be able to contribute to this exciting project, both as software providers of the portal and avid volunteers to help as often as we can" commented Jonathan Davies, Chief Technical Officer of Pervade. "The dramatic increase in cyber related crime has led to a huge demand on Police technical investigation resources, we very much hope this portal can connect Police to local experts to expedite investigations and lighten the load on these resources".
Detective Inspector Hayley Costar who heads up Northamptonshire Police's Cyber Crime Unit, said:
"Thirty years ago, a criminal wanting to commit crimes such as fraud, theft, acts of paedophilia or stalking for example, would have had to leave their house. Nowadays, all they have to do is sit behind a computer screen.
"Cybercrime has created new challenges for police forces across the country that simply would not have existed thirty years ago and therefore the way we police has had to dramatically change with it.
"I'm really pleased to hear about this new platform that the Cyber Security Forumhas developed because I know how helpful it is going to be in assisting us in all manner of cybercrimes – from hacking to harassment to serious organised crime.
"Finally, I'd like to thank the cyber volunteers for the time they give up in helping us protect people in Northamptonshire from harm – their skills and expertise are truly invaluable."