[embedwrap] [end]
Northamptonshire Police and Crime Commissioner Stephen Mold has given £200 to support the launch of a community football programme in St David's, Northampton.
The grant will allow local PCSO Rachael Barber to set up the St David's Football Project and matches financial backing from local businesses.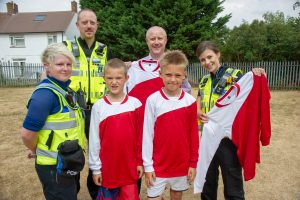 PCSO Rachael Barber, Chief Inspector James Willis, PCC Stephen Mold and Sergeant Beth Curlett with the new team strip and a pair of future St David's football stars
PSCO Barber is setting-up the project to fill a gap in youth provision for young people aged between 12 and 17 in the St David's area. There have already been some expressions of interest and PCSO Barber hopes the group will grow quite quickly to include 35-40 young people.
As a former semi-professional footballer, PCSO Rachael Barber intends the project to help young people develop skills of discipline, fair play and teamwork as well as giving them a fun and healthy activity on their doorstep.
"Businesses and organisations have come together to show their commitment to St David's and the people who live there. I believe this is a great way to give local young people a sense of achievement and aspiration and it is a serious opportunity for them to enjoy not only some healthy competition, but discipline and responsibility.
"I'm grateful to everyone who has supported this project and enabled me to get it off the ground.  I hope that this will grow so that St David's is able to compete against other football teams and attracts a following from local residents."
A trophy has been donated by Timpson's store at Weston Favell that will be known as the 'St David's Community Shield' and given to tournament winners.
PCSO Barber also hopes that the involvement of local businesses in the scheme will help create a feeling of respect, discouraging loitering and anti-social behaviour at their premises.
Stephen Mold, Police and Crime Commissioner said:
"I had the privilege of going on patrol with Rachael recently and I was bowled over by how well she knows her patch and her involvement with local people.
"One of the things that people told us was that there was very little for young people to do in the area. I support Rachael's plan to create some positive activities and a sense of belonging so that they don't get drawn into anti-social or criminal behaviour or even gangs.  Rachael has inspired me to think about how I can support other police officers and staff who may want to implement similar schemes to help the communities they serve."