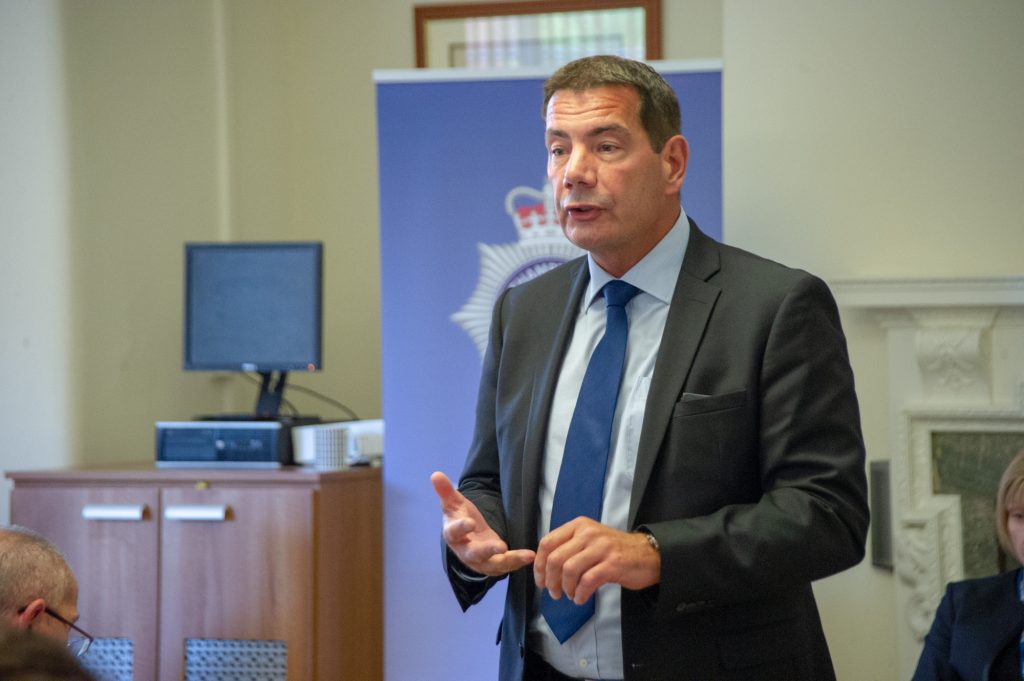 Northamptonshire's Police and Crime Commissioner Stephen Mold has announced that his preferred candidate as the new Chief Constable for Northamptonshire Police is Nick Adderley.
Nick Adderley is currently Assistant Chief Constable for Staffordshire Police. His appointment as Chief Constable of Northamptonshire is now subject to confirmation by the Northamptonshire Police and Crime Panel, which will take place on July 5.
Police and Crime Commissioner Stephen Mold has told Cllr Gill Mercer, the Chair of the Northamptonshire Police and Crime Panel, about his decision.
The announcement of Nick Adderley as preferred candidate follows a challenging selection process, culminating in two-days of interviews, where the candidates were questioned by a group of police officers and staff and gave a presentation to representatives of local partner organisations.
Candidates then faced two formal interviews. The first tested their technical skills and competence and was conducted by a panel with professional policing experience: Paul Fell, Director of Delivery for the Northamptonshire Office of the Police and Crime Commissioner; Bill Skelly, Chief Constable of Lincolnshire Police and Alison Hernandez, Police and Crime Commissioner for Devon and Cornwall.
The second interview panel was led by Police and Crime Commissioner Stephen Mold, with Darren Dovey, Chief Fire Officer of Northamptonshire Fire and Rescue Service and Yvonne Rees, Chief Executive of South Northamptonshire District Council.
Stephen Mold said: "I am delighted to announce that Nick Adderley is my preferred candidate from this very strong field.  Nick stood out throughout this very tough and open recruitment process and I believe he will be the right leader for Northamptonshire Police in these challenging times.
"Nick'spassion for policing and clear commitment to the future of this Force impressed everyone involved with the recruitment process. I believe that hehas the experience and vision that will bring the genuine and lasting improvements that we want to see.
"The Police and Crime Panel must now consider my preferred candidate and how we reached this decision. I look forward to taking my recommendation to them on July 5."
Nick Adderley said: "I am incredibly humbled and proud to have been selected as Chief Constable to serve the people of Northamptonshire and to lead such a dedicated and hard-working Force.
"Having spent time speaking to officers and staff from Northamptonshire Police I know that they share my commitment and passion to serve the public and to work with partners to ensure we deliver the best possible service we can.
"I would like to thank the Police and Crime Commissioner Stephen Mold and the members of the selection process for giving me the opportunity to lead and serve Northamptonshire Police."
Nick Adderley biography
Nick joined the police service in 1992 following a successful career in the Royal Navy.
As a serving officer in Cheshire he performed most ranks and roles up to and including that of Superintendent.
After a two-year spell working at the Home Office, Nick transferred to Greater Manchester Police and was soon promoted to the rank of Chief Superintendent, taking command of the Tameside division followed by the City of Manchester division.
In 2015, he successfully completed the Strategic Command Course and was promoted to Assistant Chief Constable in Staffordshire.
Nick is the National Police Chief's Council lead for disclosure and safeguarding as well as police motorcycling and the criminal use of motorcycles.
He is a qualified counter-terrorism commander, strategic firearms commander and CBRN commander.