Northamptonshire Police and Crime Commissioner Stephen Mold has paid tribute to Chief Constable Simon Edens who retires as Chief Constable of Northamptonshire Police on Sunday August 5.
Simon Edens has been Chief Constable since 2015, serving Northamptonshire Police and the people of the county with commitment and dedication.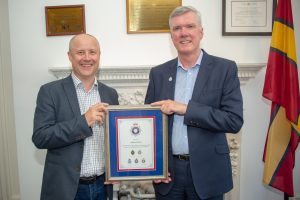 He has been a police officer for 37 years, having previously served in Leicestershire, Cambridgeshire, West Mercia and the Royal Ulster Constabulary.
Stephen Mold, Police and Crime Commissioner, thanked Simon Edens for his contribution to policing and for helping protect the people of Northamptonshire from harm.
"Chief Constable Edens is a highly-respected police officer who should be rightly proud of the enormous contribution he has made during his 37-year career. Policing is clearly his vocation: He has lived by the highest values of the service and made a major contribution to the communities in which he has served.
"Simon Edens has taken Northamptonshire Police through some challenging times and led on the development and implementation of a new policing model to increase the Force's capacity to investigate crime and focus on community policing.  I thank Simon for all his hard work in putting these foundations in place and wish him a very long and happy retirement."
On Simon Edens' retirement, Nick Adderley will become Chief Constable of Northamptonshire Police on Monday 6 August.