Northamptonshire Police and Crime Commissioner Stephen Mold is cycling 270 miles from Ypres to Northampton as part of the Ride for Hope Challenge 2018.
The ride aims to raise money for the Hope Centre in Northampton and will take Stephen Mold and Nicci Marzec, Director of Early Intervention in the Office of the Police and Crime Commissioner, four days to complete. They will be in a group of more than 40 cyclists who will be leaving Ypres through the iconic Menin Gate on Thursday 6 September.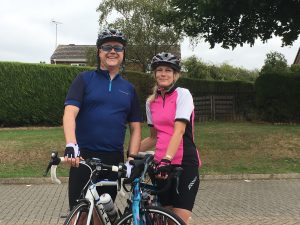 Stephen and Nicci will travel through the battlefields of Passchendaele and past the famous Tyne Cot memorial then on to Bruges and into Holland. They will cross on the ferry to Harwich then on to Cambridge and back to Northampton.
The route of this year's Ride for Hope will commemorate the return of troops from the First World War, in this 100thanniversary year of the conflict's end.
Cycling around 80 miles a day, Stephen and Nicci are committed to raising at least £500 each for the Hope Centre, a charity supporting the homeless in Northampton.
Northamptonshire Police and Crime Commissioner Stephen Mold said:
"I did 'The Big Sleep Out' for Northampton Hope Centre earlier this year and when I was challenged to take on this cycle ride, I couldn't say no.
"I wasn't a keen cyclist before I agreed to this challenge and I'll admit it has been difficult to fit in enough time for training.  Now I am at the point where I feel I am ready to go the distance though I'm sure it will be tough, and I'm relying on the support of the other riders to keep me going. I'm going to give it my best and when I arrive back in Northampton, I know I will have had a great experience and raised money for people who really need it." 
Stephen's Just Giving page can be found at https://www.justgiving.com/Stephen-Nicci