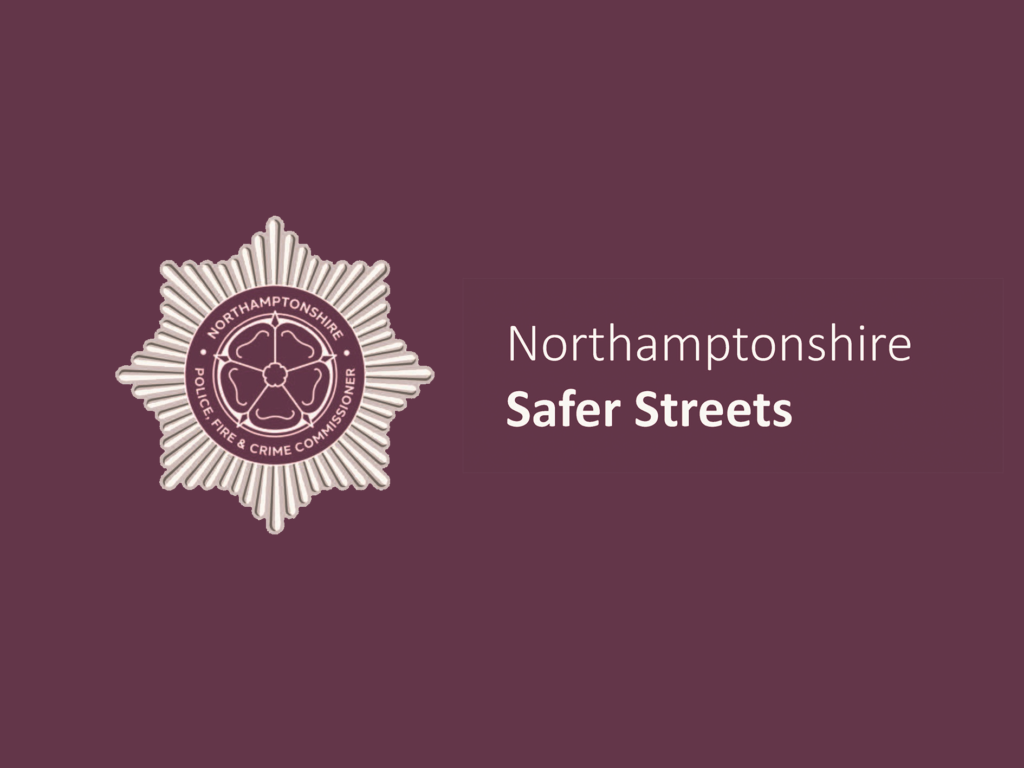 Northamptonshire Police, Fire and Crime Commissioner Stephen Mold has been awarded almost £1.2 million from the Home Office following the success of two bids to the Government's Safer Streets Funds.
The Police, Fire and Crime Commissioner will add additional funding so that almost £1.7 million will now be used on projects to improve the safety of women at night in Northampton and Kettering – including the creation of a Night Safety Charter – and to prevent crime on the Queensway estate in Wellingborough.
This is the fifth time that the Police, Fire and Crime Commissioner has been successful in securing funding from the Safer Streets scheme, bringing an additional £3.3 million that has been invested in schemes to keep the county safe.
The funding announced today will be used on a series of projects to continue work to tackle violence against women and girls in Northampton, and Kettering and to improve the safety of residents on an estate in Wellingborough.  The work to be carried out includes:
Night-time economy in Northampton and Kettering
Schemes in Northampton and Kettering will enhance the safety of women and girls at night with more than £450,000 of funding.  Work will include the creation of a night safety charter; improvements to increase safety of pedestrians as they move about on a night out in Bridge Street, Northampton; lighting improvements and alley gating; an app to help map areas where people don't feel safe, so that they can be improved.
There will also be significant investment in ID scan technology that will let around 30 venues in Northampton and Kettering share information about people who behave inappropriately or dangerously, which will improve security for pubs and clubs that open past 1am.
And a ground-breaking partnership will see "Stand by Her" training rolled out to young men in education to help them understand the impact of harassing behaviour on women and give them the skills to challenge safely and offer support.
This work will build on the schemes put in place earlier this year in Northampton and will see the continued development of the Shout Up harassment training for bar staff, the Licensing Savi scheme to create a benchmark for security in licensed premises and the It Only Takes One campaign to continue a conversation that encourages bystanders to challenge inappropriate behaviour and starts a conversation about respect.
The Commissioner will also supply a second SNOvan – Safer Nights Out van – to be used by volunteers in the north of the county to support anyone to finds themselves vulnerable on a night out.
Queensway, Wellingborough
Around 650 properties in Kiln Way and Minerva Way will have new, secure doors fitted in a partnership with Greatwell Homes, and alleys in Shelley Road will be gated.  Security lighting will be fitted to some properties and there will be a significant roll out of security products to residents.
There will be a major extension of North Northamptonshire Council's CCTV scheme with up to 18 new cameras on the Queensway estate. Car parks will be made more secure and brought to the Park Mark standard and activity schemes will be provided for young people.
All the proposals were developed based on crime rates in the areas to be targeted and following consultation with residents and other stakeholders. Work will begin as soon as possible.
Northamptonshire Police, Fire and Crime Commissioner Stephen Mold said: "I'm thrilled that the bids we have put forward for additional funding to tackle crime in Northamptonshire have yet again been successful.  This money will be used on practical measures to tackle crime and make people safer and will focus on the priorities that local people have told us they want to see dealt with.
"We'll be working in partnership with other agencies and with local communities to make Northamptonshire safer.  I'm pleased to have been able to bring more money to the county to do this and to have the opportunity to do even more to directly protect local communities and to focus on preventing crime."
The Police, Fire and Crime Commissioner has already carried out Safer Streets projects in Wellingborough, Kettering, and Northampton, where improvements such as the gating of alleyways, increased CCTV, improved lighting and physical security of homes and parking areas were carried out. A further project tackled violence against women.