PCC Stephen Mold has visited three projects on a 'seeing is believing' visit organised by Northamptonshire Community Foundation, which manages the Police and Crime Commissioner's Making Northamptonshire Safer Communities Fund. Since the fund's launch, a total of £65,655 has been awarded to community projects that are preventing crime in the County.
The fund offers grants of up to £10,000 to support the Police and Crime Plan objectives: Keeping the young safe; Putting victims first; Protecting people from harm and Community Partnerships.
The Police and Crime Commissioner, Stephen Mold visited three projects that are trailblazers for preventing crime in Northamptonshire.
C2C Social Action run a women's centre in Northampton providing services to female offenders on probation orders. Those that attend the centre include ex-offenders, women at risk of offending, victims of domestic abuse and women with mental health issues.
The group were awarded £10,000 from the PCC's fund to continue to run their women's centre and extend the service to other vulnerable women.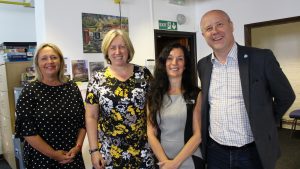 Pictured: PCC Stephen Mold (far right) with Victoria Miles (far left) of Northamptonshire Community Foundation and members of C2C Social Action
Annabel Sallis, Chief Executive of C2C Social Action spoke about how the funding has supported their centre:
"The funding enables C2C to improve the emotional, physical and mental wellbeing of women who have been granted a mental health treatment requirement (MHTR) which is a community order. Our MHTR support worker enables women to attend various activities according to her needs. All of this has a huge impact on our service users their children, wider families and local communities creating a safer, stronger Northamptonshire."
Northamptonshire Neighbourhood Watch Association received a £9,460.00 grant from the Making Northamptonshire Safer Communities Fund to launch a brand new initiative, called Operation Target to develop crime prevention, reporting and awareness across the County.
The Police and Crime Commissioner observed the Northamptonshire Neighbourhood Watch Association in action during their outreach Operation Target project.
Nicholas King, Chair of Northamptonshire Neighbourhood Watch Association said:
"It's great news that Northamptonshire Neighbourhood Watch has received a grant of £9,460 from the Office of the Police & Crime Commissioner for Northamptonshire. This grant is a real boost for our project Operation Target with its goal of building the visibility and membership of Neighbourhood Watch in crime hotspots. It is also about strengthening and developing deeper partnerships with our Police, the OPCC, Housing Associations and other community-based charitable groups." 
"From our work with the Police we can see a much tighter and more focused deployment of Police resources. This places a need on voluntary groups like ours to re-think how we do things. There is no way we could progress an innovative project such as Operation Target without the financial support from the Making Communities Safer Fund."
East Northants Community Services in Rushden were also amongst the community groups that received a visit from the Police and Crime Commissioner.
Northamptonshire Police and Crime Commissioner, Stephen Mold said:
"I am delighted to be able to directly support groups across the county through my Making Northamptonshire Safer fund, giving grants to project that are helping protect people from harm.  The work that have have seen today is carried out by people who tirelessly work to make a difference to their communities.  It is a privilege to play a part in their success."
Victoria Miles, DL, Chief Executive of Northamptonshire Community Foundation was also in attendance:
"Seeing the impact that the funding has had on the groups that the PCC has donated, makes us even more aware that grants like this are vital to contributing to our voluntary and community sector who can reach our most disadvantaged areas."
The Foundation works with fund holders and donors to ensure projects make a sustainable impact on local needs, helping donors make the most of their charitable giving. To find out more go to www.ncf.uk.com.