Thirty late night venues across Northamptonshire have been equipped with state-of-the-art security technology, creating a virtual network to help tackle crime and disorder, and keep people safe on a night out.
Bars and clubs in Northampton, Wellingborough, Kettering and Daventry that open after 1am all now have the latest ID scanning equipment to help them manage who comes into their venue, thanks to funding from Northamptonshire Police, Fire and Crime Commissioner Stephen Mold.
The venues are now able to share information about people who have caused trouble in their premises, meaning that anyone banned from one venue could find themselves banned from them all.
The system scans someone's identification and checks if it is genuine. The system also captures the person's image, sending a message to anyone intent on causing trouble that they could be identified if an incident occurs.
Some of the venues taking part in the scheme already had identification scanning equipment, but now that all 30 are operating with the same technology, information sharing and closer working is made much easier.
This is the first time that a network of premises is being equipped to the same standard and enabled to work together across Northamptonshire, and it is thought to be the largest roll out of ID scan technology in the night-time economy in England.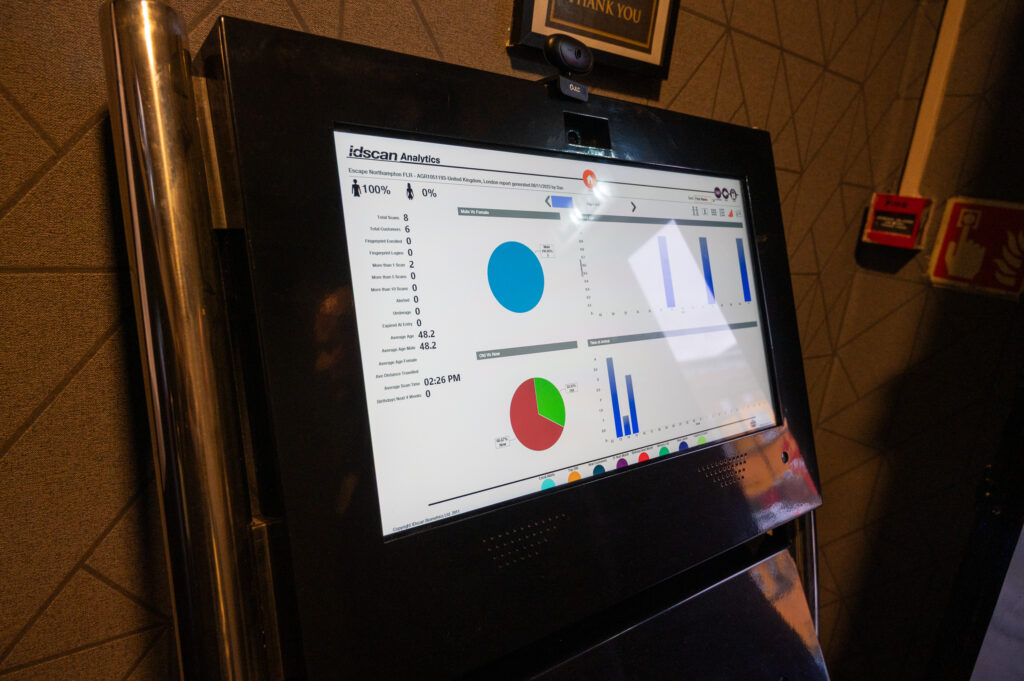 The project has cost around £119,000 and has been implemented by the Police, Fire and Crime Commissioner Stephen Mold supported by around £94,000 from the Home Office Safer Streets funding.
It is part of a wider programme of work to tackle violence against women and girls that has seen £1.2 million spent on initiatives including environmental improvements such as lighting and CCTV, training for staff in pubs and clubs to recognise vulnerability and challenge harassment, and the Licensing Savi scheme to help premises improve safety for customers at their venues.
Stephen Mold said he hopes the new network will lead to a reduction in alcohol-related crime, violence and disorder and create a safer environment in town centres for everyone to enjoy.
"I'm pleased that we have been able to help build a stronger partnership with and between licensed premises and support them in their work to make their premises safer," Stephen Mold said.
"Being able to identify people who have caused trouble elsewhere gives venues much more control and gives troublemakers nowhere to turn. It also provides a useful tool for police should they have to investigate any incident that does occur."
One of the premises owners to benefit from this scheme is The Stitching Pony pub in Kettering town centre. General Manager Alexander Barratt (pictured above with Stephen Mold) said: "It's improved things massively for us and made our lives so much easier.
"It helps the bouncers out because it's quicker to check IDs for them, and if there's any trouble we can stop it at the door, and it brings the town's venues together to be able to communicate if there's any trouble. These systems are absolutely brilliant, and every venue should have them."
Danny Kituno, who runs Escape in Northampton town centre, also highlighted the positive impact the scanning technology has had already. Danny (pictured below with the Commissioner) said: "The safety of our customers is a big priority and the introduction of these scanners has been a game changer.
"We can now actually see what is happening, who these people are who have been causing trouble, and we are now able to share that information with other venues.
"We are really grateful to the Police, Fire and Crime Commissioner, and we hope the result of this is that we see our community and our venues safe, and people come out confident that they can have a safe night out and to go back to their loved ones."
Superintendent Steve Freeman, of Northamptonshire Police, added: "We are fully supportive of ID Scan Live which will not only help prevent people becoming vulnerable but also address issues of predatory behaviour within our night-time economy.
"It is very important that we work in partnership with our licensees, to ensure everyone who visits or works at licensed premises in Northamptonshire have a safe and enjoyable time."