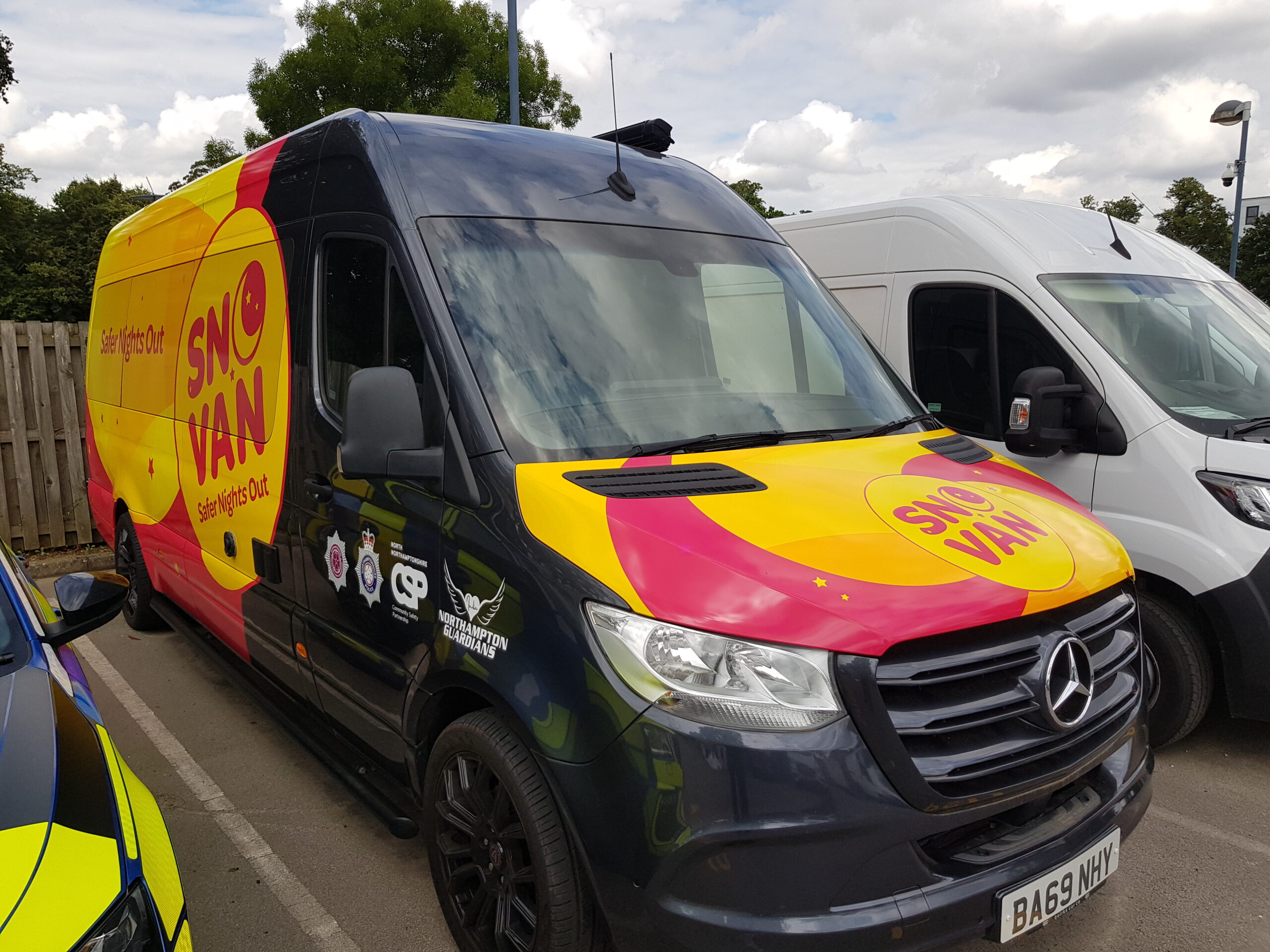 A second SNOvan is hitting the road and heading to Kettering next weekend, ready to provide a safe space for anyone who finds themself in need of support during an evening out.
From Saturday 2 September, the SNOvan will be parked in Horsemarket (next to the taxi rank) on the last Friday of the month, and every Saturday between 10pm and 3am. The second SNOvan will be a base for volunteers to supply a warm, safe welcome to someone who finds themselves vulnerable for any reason.
The SNOvan is funded by Northamptonshire Police, Fire and Crime Commissioner Stephen Mold as part of a programme of work to make the night-time economy safer and protect vulnerable people.
The Kettering SNOvan, as in Northampton, will be an operating base for volunteer safety group the Northampton Guardians. The Guardians give their own time to give care that helps keep people safe and frees up emergency services to focus on the highest risk cases, and on tackling perpetrators of crime.
The Northampton SNOvan has become a firm fixture in the town's night-time economy, and it will aim to give the same level of support to people in Kettering town centre.
Since January 2023, the Guardians have given more than 1,900 hours of support on the SNOvan. And since the SNOvan was launched in December 2021, the Northampton Guardians have helped at least 1,200 people in a variety of ways, ranging from supplying water or warmth, first aid, or helping them get home safely.
Northamptonshire Police, Fire and Crime Commissioner Stephen Mold said: "The Northampton SNOvan has proved to be an invaluable resource for the people who are working hard in so many ways to keep visitors safe on a night out in Northampton. It is a safe space that the Northampton Guardians have been able to use as a base to give care to anyone who finds themselves vulnerable and I know that simply knowing it is there, with volunteers ready to help, makes people feel more confident.
"We want to reduce the risk of someone coming to harm and help to create a calm and comfortable atmosphere for everyone enjoying a night out. The partnership of the SNOvan and the Guardians has boosted safety in Northampton. I hope it will have the same impact on the night-time economy in Kettering."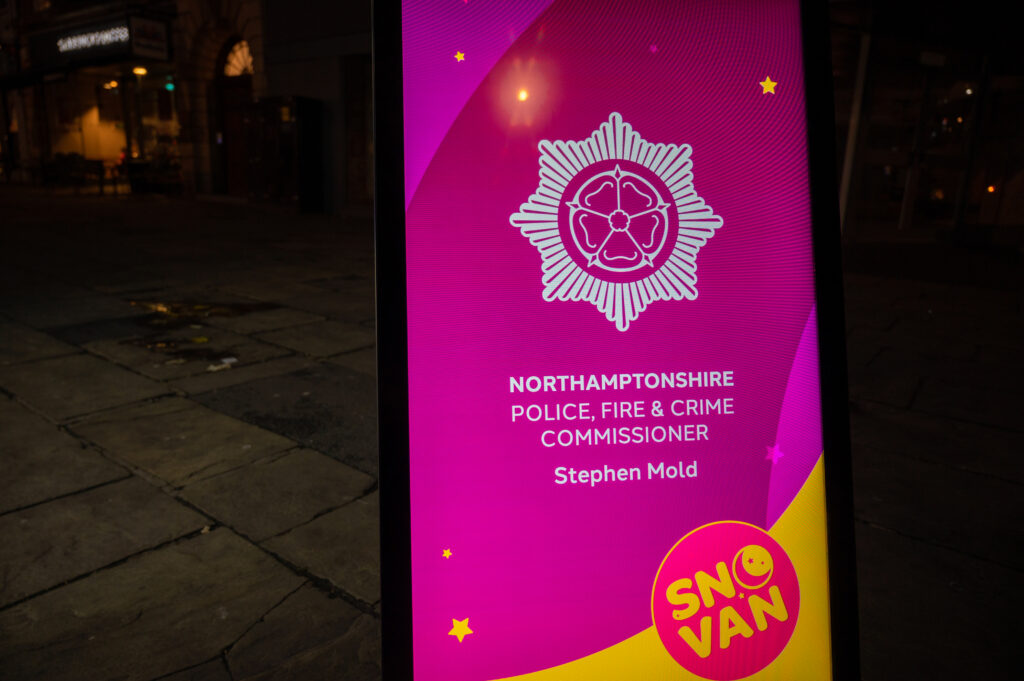 Gill Goodship  of the Northampton Guardians said that the team of volunteers were looking forward to extending their work to Kettering. She said: "With our expansion into Kettering, the Northampton Guardians are delighted to continue to contribute to the safety and well-being of people enjoying the night-time economy. We are grateful for the support of Stephen Mold and his office, along with the other organisations that we partner with. We are particularly pleased to be joining the Kettering Street Pastors, who are firmly established in the town, and we will work closely with them to continue to improve the safety and well-being of everyone in the night-time economy."
The SNOvans are part of a wider programme of work by the Commissioner aimed at creating safer public spaces in Northamptonshire and making people safer.
Working with partners such as West Northamptonshire Council, North Northamptonshire Council, Northampton Town Centre BID, Northamptonshire Rape Crisis and Northamptonshire Police, the Police, Fire and Crime Commissioner has carried out  improvement projects including better lighting and walking routes; additional CCTV cameras; targeted enforcement against perpetrators and campaigns to raise awareness amongst club and bar staff and the public about how to call out unacceptable behaviour.
This work was supported with funding from the Government's Safer Streets initiative, which supports practical, crime fighting projects.
Councillor Mark Rowley, Executive Member for Housing, Communities and Levelling Up for North Northamptonshire Council, said: "We all want to have a good time when we venture to our nearest towns in the evening and ensuring that our night-time economy is a safer space to enter is something which is wholeheartedly supported by North Northamptonshire Council.
"It is a sad fact that women and other more vulnerable members of our community may be at risk of predatory individuals as the night progresses. This is simply not acceptable, but we support all efforts to make sure they are as safe as they can be.
"We celebrate the great success to date of the SNOvan, together with the sterling efforts of the Northamptonshire Guardians, who bridge the important gap between the door staff and the emergency services and I am delighted that this collaborative work is being extended in Kettering."